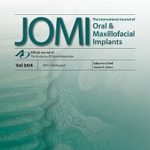 The success rate of LASAK products is monitored in the long-term and – most importantly – is documented in clinical studies published in scientific literature. Another study supporting the high quality of LASAK products has been released. The paper was published in the American Journal JOMI 2019; 34(5):1184–1194.
LASAK offers original solutions based on its own research and development. LASAK documents the functional characteristics of BioniQ implants with rigorously controlled and evaluated efficiency in clinical practice. "We know how our implants work. Therefore, we can provide our customers and patients with the security, safety and predictability of the implant treatment", adds Ing. Jakub Strnad, PhD, CEO of LASAK.
This clinical follow-up study of BioniQ BIO-surface implants has been published in the prestigious international journal, JOMI, which covers implantology. The paper describes the effect of thin and thick biotypes on marginal bone response in submerged and non-submerged implants. The results obtained after two years in function have been published. The entire follow-up period lasts five years.
The interim results, obtained after the third year of loading, show a 100% cumulative success rate of the monitored implants according to predefined criteria. After three years in function, bone resorption higher than 1 mm and less than 2.5 mm was observed in 9 implants (9.2%) when considering the time of implantation as the baseline, and in 2 implants (2.1%) when considering the time of dental prosthesis placement as the baseline.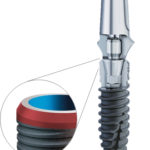 The high stability of the marginal bone and soft tissue was demonstrated when using LASAK's BioniQ implant system with modified surface roughness in the area of the implant neck.
It may be noted that the quality of the attachment of the connective tissue and epithelium to the implant surface is directly influenced by the biotype, or the biological width. The implant submersion defines the mutual (relative) position and, thus, the availability of the attachment. Therefore, the soft tissue biotype and implant submersion represent key factors in marginal bone loss.