PORESORB-TCP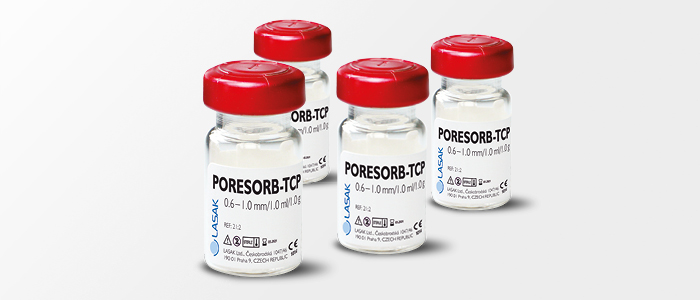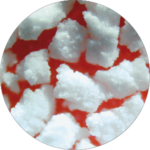 PORESORB-TCP is a bioactive, resorbable, inorganic bone regeneration material. It creates stable contact with bone and prevents the formation of a soft tissue interlayer. PORESORB-TCP has osseoconductive and osseoinductive properties which significantly increase the treatment efficiency. As a phase-pure β-tricalcium phosphate matrix with an interconnecting porosity it can be completely resorbed and gradually replaced by newly formed bone. PORESORB-TCP as a fully synthetic material avoids any potential immunological or infection risks arising from materials of biological origin.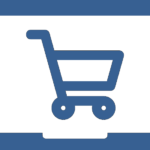 You can buy PORESORB-TCP on our e-shop.
Indications
Implantology, periodontology
Filling of bone defects after extirpation of cysts
Treatment of periodontal defects
Remodeling of the alveolar ridge
Treatment of bone defects around dental implants
Filling of bone defects after surgical extractions to prevent alveolar atrophy
Orthopedics, traumatology
Tumor-like lesions (unicameral bone cyst, aneurysmal bone cyst, bone gangliomas, fibrous dysplasia, …)
Pathological fractures with the above-mentioned lesions
Posttraumatic bone defects (comminuted osteoporotic fractures compressive fractures of a long bone epiphysis)
Advantages
Resorbability
High phase purity
Osteoconductivity
Highly safe material – no protein content, no risk of infection
Interconnected pores
Stable material in bone defects, with good workability
Sinus lift procedure (lateral approach)
The sinus-lift operation is an effective method which enables the use of dental implants in locations without sufficient alveolar bone volume. PORESORB®-TCP is inserted into the space of the maxillary sinus where dental implant fixation is enabled by new bone tissue formation.

1. Before operation
2. Window created in the front side of the maxillary sinus
3. Implant insertion

4. Filling of defect with PORESORB®-TCP material
5. Defect isolation by resorbable membrane
6. Post-operative situation
Treatment of periodontal defects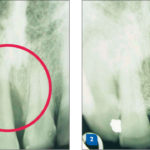 Treatment of intraalveolar defects (Periodontitis). Situation before and 6 months after treatment.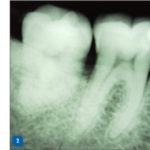 Periodontal defect before treatment, post-operation and 1 year after treatment. (Assoc.Prof. Pavel Poleník, MD, PhD.)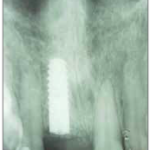 Augmentation of atrophic alveolar ridge before dental implant insertion
Resorbability of the material enables problem-free introduction of dental implant into the regenerated bone tissue, (implantation 1 year after treatment with PORESORB®-TCP).
Assoc. Prof. Pavel Polenik, MD, PhD.
The use of PORESORB®-TCP in combination with the platelet concentrate (PRP) for the regeneration of periodontal and bone tissues
Regeneration of bone tissues at the place of periodontal defects depends on the presence and phenotypic expression of undifferentiated mesenchymal cells. Factors which stimulate these cells to regenerative activity can be obtained from the platelet concentrate (PRP) of the patient's blood. The combination of PORESORB®-TCP material with platelet concentrate results in a greater yield of bone tissue. No less important is its influence on the post-operative healing of adjacent tissues. Operation scars heal much faster which remarkably reduces the risk of post-operative infection. The use of PRP in combination with PORESORB®-TCP as a suitable micro-porous carrier represents an accesible method for the intensification and speeding-up of processes of tissue regeneration.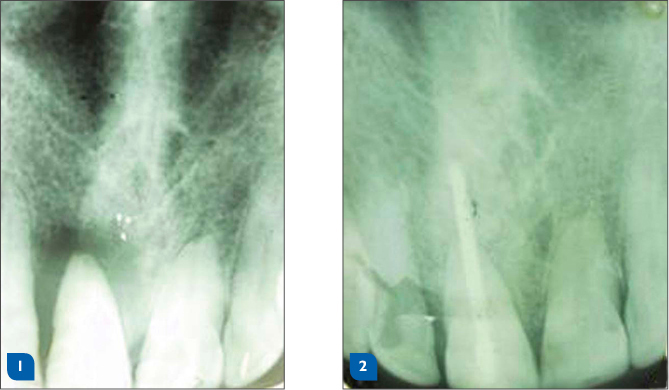 Extensive and advanced periodontal defect
Situation 3 months after operation (Assoc. Prof. Pavel Poleník, MD, PhD.)
Clinical application of PORESORB®-TCP / sinus lift procedure (internal)
Thanks to the high X-Ray contrast of the PORESORB®-TCP material, the process of resorption and bone tissue regeneration can be effectively monitored. The X-ray contrast becomes weaker as a result of the material's resorption and its replacement by bone tissue. The irregular polygonal shape of the granules ensures larger pore spaces and their lower immobility (high stability) in the defect.
Post-treatment

Situation two years after loading of implants

(MUDr. Z. Nathanský, CSc., Department of Stomatology, Charles University, Prague, Czech Republic)

1. Pic: Histological examination of tissue removed during implantation into sinus-lift. Remaining particles of PORESORB®-TCP enclosed within the newly-regenerated bone are visible (Giemsa staining).
2. Pic: PORESORB®-TCP material surrounded by newly-regenerated bone tissue (mineralized tissue – blue; osteoid – red; Ladewig staining).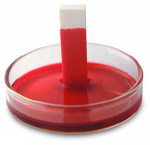 The structure of the material is similar to bone tissue structure. The pore sizes can be divided into two groups – macro-pores with a size of 100 mm and micro-pores with a size ranging from 1 to 5 mm. Macro-pores enable the growth of bone tissue into the center of the defect. Micro-pores support the penetration of body fluid into the material and support the adhesion of proteins and cells. The material is osseoinductive – it stimulates the evolution of mesenchymal cells into bone cells and accelerates the creation of new bone tissue. The material dissolves due to hydrolytic corrosion in the latter stages of interaction and is subsequently resorbed and replaced with new bone tissue.
PORESORB®-TCP – specification
| | | |
| --- | --- | --- |
| Cat. No | Size | Packaging |
| 32:2 | 0.16–0.3 mm | 0.5 ml/0.5 g |
| 31:2 | 0.16–0.3 mm | 1.0 ml/1.0 g |
| 13:2 | 0.3–0.6 mm | 0.5 ml/0.5 g |
| 11:2 | 0.3–0.6 mm | 1.0 ml/1.0 g |
| 23:2 | 0.6–1.0 mm | 0.5 ml/0.5 g |
| 21:2 | 0.6–1.0 mm | 1.0 ml/1.0 g |
| 41:2 | 1.0–2.0 mm | 1.2 ml/1.0 g |
| 42:2 | 1.0–2.0 mm | 2.4 ml/2.0 g |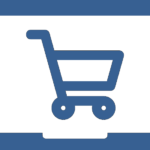 You can buy PORESORB-TCP on our e-shop.
You can buy BioniQ system on our e-shop.

Case reports
Download
---