OssaBase-HA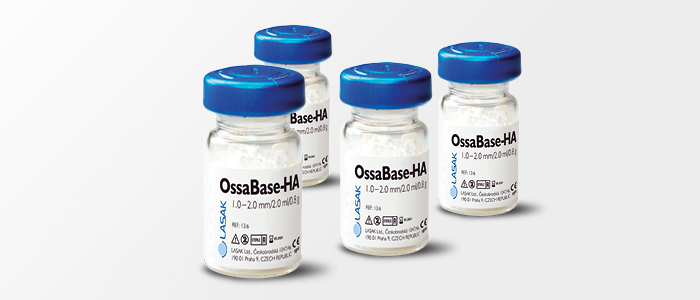 Macro and nano bone-like structure
Excellent volume maintenance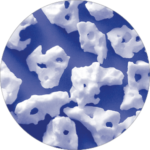 OssaBase-HA is a synthetic, macro- and nanoporous bone regeneration material based on hydroxyapatite with a low substitution rate. It is used for the bone regeneration of missing or lost bone tissue independently, or in combination with autologous bone tissue, blood or PRP.
OssaBase-HA features up to 83% interconnected porosity to support vascularized bone formation. Its low substitution rate helps to provide long-term graft stability and the maintenance of volume when a longer healing time is required or if re-entry to the site may be delayed. OssaBase-HA bone regeneration material offers a chemically and structurally similar, synthetic alternative to bovine-derived bone substitutes.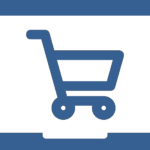 You can buy OssaBase-HA on our e-shop.
Indications
Implantology, periodontology
Remodeling of the alveolar ridge
Treatment of bone defects around dental implants
Filling of bone defects after extirpation of cysts
Treatment of periodontal defects
Orthopedics, traumatology
Tumor-like lesions (unicameral bone cyst, aneurysmal bone cyst, bone gangliomas, fibrous dysplasia, …)
Pathological fractures with the above-mentioned lesions
Posttraumatic bone defects (comminuted osteoporotic fractures, compressive fractures of a long bone epiphysis)
Neurosurgery
Filling of intervertebral discs
Advantages
Structure system of interconnected macro and nanopores which mimic the structure of human bone
Excellent osteoconductive properties of OssaBase-HA enable predictable bone regeneration
Optimal non-irritating shape of polygonal macro and nano-porous granules
No organic porogen compounds used during manufacturing – ensures particularly high chemical and phase purity
Fully synthetic material – no risk of immunological reactions or pathogen transmission
Narrow size ranges of available granules – enough space for optimunm bone ingrowth over large distances
Excellent osteoconductive properties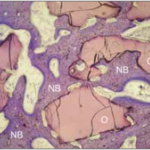 3 months after implantation: New bone formation (NB) on OssaBase-HA particle surfaces (O) at the spongy site of the surgically created bone defect.
2. 6 months after implantation: Fragments of the OssaBase-HA material are tightly surrounded by vital, newly formed bone (NB), which also fills the macropores of the material (O).
3. Osteoconduction in detail: High magnification image of OssaBase-HA implant showing that new bone (NB) has formed around the implanted granules. Notice the bone bridge that connects the granules. Arrows indicate the osteoid layer at the periphery of newly formed bone. Note the central osteoid area in the case of replacing the thinner and longer bone bridge.
Comparison of experimental results of OssaBase-HA and published data of Bio-Oss®
The synthetic, porous B-type carbonated apatite prepared by low-temperature synthesis OssaBase-HA resembles the structure and chemical composition of the biological bone apatite and can substitute successfully for non-sintered bovine apatite prepared by the deproteinization of bovine bone (Bio-Oss®) with the advantage of the absolute elimination of risk associated with residual antigenic proteins of xenogeneic bone.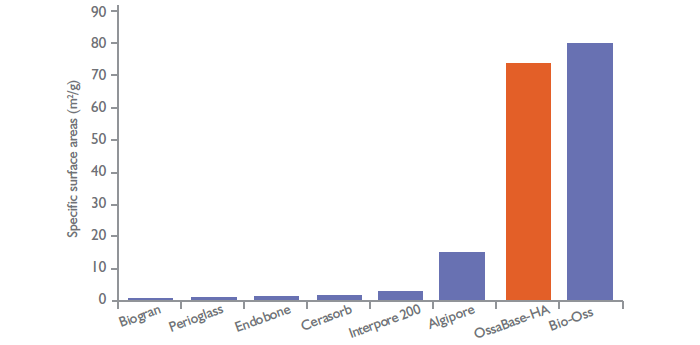 Specific surface areas of bone grafting materials (m2/g). (Weibrich, Wagner et al, Mund Kiefer GesichtsChir, 2000/OssaBase-HA Data File, LASAK Ltd.)
OssaBase-HA – specification
| | | |
| --- | --- | --- |
| Ref. No. | Grain size | Package |
| 15:6 | 0,3–0,6 mm | 0,5 ml/0,25 g |
| 13:6 | 0,3–0,6 mm | 1,0 ml/0,5 g |
| 25:6 | 0,6–1,0 mm | 0,5 ml/0,25 g |
| 23:6 | 0,6–1,0 mm | 1,0 ml/0,5 g |
| 43:6 | 1,0–2,0 mm | 1,0 ml/0,4 g |
| 40:6 | 1,0–2,0 mm | 2,0 ml/0,8 g |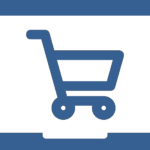 You can buy OssaBase-HA on our e-shop.
Download
---