Cranio-Oss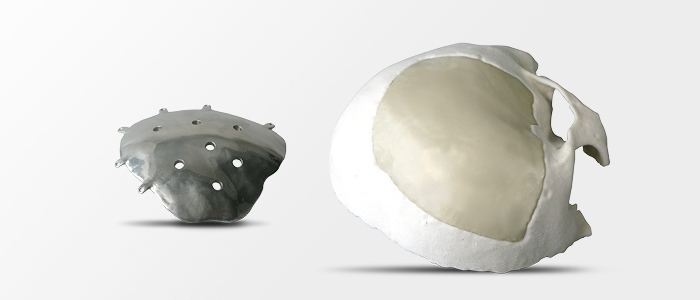 Exact geometry from CT data
Excellent biocompatibility – Ti, PEEK
No adjustments required during surgery
Maximum surface in contact with the bone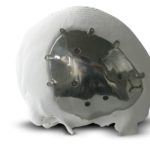 Cranio-Oss custom implants are indicated for anatomical reconstructions of bone defects in the area of the cranial vault and face caused by decompressive craniectomy; comminuted fractures and fractures with a loss of bone tissue; bone removal due to a tumour, inflammation, infection or rejection of previously implanted material.
Cranio-Oss custom implants are made from synthetic biomaterials – technically pure titanium (c. p. Ti) or polyether ether ketone (PEEK Optima-LT), using the modern CAD/CAM method. Customization of artificial implants for the specific defect and patient allows us to optimise the treatment of extensive bone defects.
Advantages
Precise customized geometry created according to the patient's up-to-date CT data
Choice of two materials with excellent biocompatibility (Ti, PEEK)
The supplied implants are complete and finished and do not need to be adjusted during surgery
Manufactured using modern CAD/CAM technology with five-axis milling
Highly precise and stable shape
Maximum surface in contact with the bone – even distribution of load
Very good esthetic results
Technology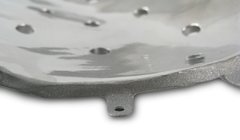 Modern CAD/CAM technology guarantees that the edges of the implant are precisely aligned with the edge of the defective bone and the entire implant has optimum thickness. The implant surface that is in contact with the bone has a special surface to achieve optimum tissue response.
Properties of Cranio-Oss Ti
Technically pure titanium (ISO 5832-2.1993 E: Implants for Surgery, Unalloyed titanium)
High mechanical strength
Excellent biocompatibility
Osteoconductive surface that is in contact with the bone
Integrated fitting components – high primary stability
Can be resterilized in an autoclave
Properties of Cranio-Oss PEEK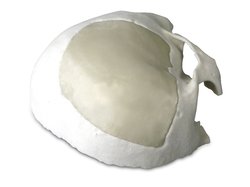 Polyether ether ketone; (ASTM F2026-10: PEEK Polymers for Surgical Implant Applications)
Mechanical properties similar to bone
Specific weight similar to bone
Better biocompatibility than other plastic materials
Can be adjusted during surgery
Can be resterilized in an autoclave
Can be fixed with mini splints
Download
---