The goal of implantological treatment is to achieve a result which is functional and aesthetic, as well as long-term stable and sustainable. Based on his many years of experience with guided surgery as well as dynamic navigation, Dr Jiri Hrkal reports in his case study how current technologies, materials, procedures, and LASAK BioniQ implants help him to achieve this goal.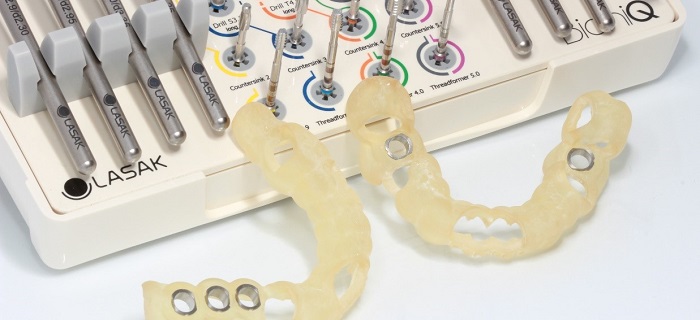 In his article "Possible use of computer-assisted surgical procedures: Functional and aesthetic implantological treatments", published in the prestigieous German Implantology Journal "Implantologie Journal No. 10/2022", Dr Jiri Hrkal shares his experience using different types of navigation procedures. Choosing the optimal method of navigated implant placement depends on the dentist's experience and options. The set for LASAK BioniQ guided surgery is ready-for-use, both for guided pilot drilling and for fully guided surgery. This allows the dentist to select an individual approach and the best method for the patient's needs to achieve an optimal treatment result. In some borderline situations, it is also possible to use a combination of guided surgery and dynamic navigation.
Case 1: Fully guided implantation
In the first case reported here, Dr Hrkal decided to insert three LASAK BioniQ implants using fully guided surgery. Based on the measurement of the bone volume, a 10 mm long BioniQ Straight implant with a diameter of 3.5 mm was placed in both regions 45 and 46 and an equally long BioniQ Tapered implant with a diameter of 4.0 mm was placed in region 47. At the same time, the prosthetic restoration was designed using a fixed screw-retained metal-ceramic dental bridge.
Case 2: Implantation with guided pilot drilling in combination with dynamic navigation
In the second reported case, the old unsatisfactory fixed restoration had first to be removed, one tooth extracted, and two other teeth treated endodontically. A 14 mm long BioniQ Straight implant with a diameter of 3.5 mm was planned for Region 14. In addition, a fixed metal-ceramic bridge on teeth 17–15, as well as a metal-ceramic implant-supported bonded dental crown were designed. In this case, Dr Hrkal opted for a combination of guided pilot drilling and dynamic navigation. The limited availability of bone and the nearby root of the neighbouring tooth played an important role in his reaching this decision.
Patients expect an ideal functional and aesthetic result from implantological treatment that is long-term stable and sustainable. Today's digital technologies make this possible and easier in most cases.
You can read the full case report in English using this link.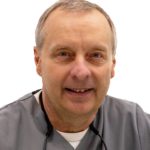 Dr Jiri Hrkal is the head dental surgeon at the HDC Kladno private dental practice in the Czech Republic. He also serves as Vice President of the Czech Society of Implantology. Implantology is the main focus of his work. He increasingly uses modern digital technologies in his practice. These also include BioniQ guided pilot drilling and surgery, as well as dynamic navigation. Dr Hrkal is involved in developing and testing new materials, procedures, technologies and devices in implant dentistry. He publishes the results of his work in case studies. He is also a lecturer in implantology.