Narrow scanbodies have been added to the libraries for the BioniQ system, both for the blue QR prosthetic platform and for the yellow QN prosthetic platform. The new scanbodies have optimised features, meaning they can be used with intraoral scanners and in laboratories.
Smaller dimensions, identical scanning accuracy
The scanbody – narrow has been developed due to the growing popularity of intraoral scanning and the related need for a more anatomically suitable scanbody shape. The scanbodies are generally smaller in dimension; however, scanning accuracy on modern scanning systems remains the same. They can be used with equal convenience both intraorally and when working on laboratory scanners.
The lower titanium base ensures a seamless connection to the implant. Thanks to the PEEK material the body is made of, the scanbodies can easily be read by the optics of all scanners available on the market.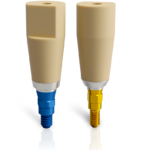 Narrow vs. long
The maximum diameter of narrow scanbodies is reduced to 5.0 mm, compared to the long scanbodies. The height of the body from the implant external platform to the upper surface of the scanbody has been reduced to 11 mm. The scanbody has been streamlined in the area above the implant external platform, optimising easy passage between soft tissues.
One screwdriver fits all system screws
The same BioniQ system screwdriver is used for the BioniQ scanbodies, and for all the abutment screws, as well as the bridge screws used for fixing the restorations.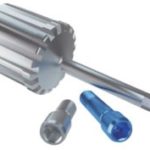 You can find BioniQ scanbodies – narrow in the updated 3Shape and exocad software libraries.