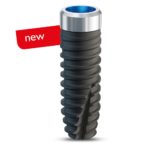 Supplementation of the BioniQ implant system with new BioniQ Plus implants with a machined collar gave rise to a comprehensive dental implant system capable of providing treatment in every situation. It includes BioniQ implants inserted at the level of the bone and BioniQ Plus implants allowing insertion at the level of soft tissue. In both cases, starting with a diameter as small as 2.9 mm. All implants are fitted with a unique hydrophilic BIO-surface.
Ideal implant for problematic conditions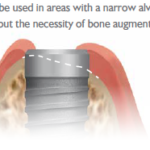 The BioniQ Plus implant is a one-stage implant intended to be inserted primarily into the distal area. It is also advantageous for use in areas with a narrow alveolus without the necessity of bone augmentation, and in areas with a relative lack of vertical bone height. The BioniQ Plus implant has a machined collar with a height of 1.7 mm. It is fully compatible with all the instruments and prosthetic components of the QR and QN platforms of the BioniQ implant system. The intraosseous section of the implant is provided with a BIO-surface, which ensures the excellent osseointegration that is a characteristic of all BioniQ implants.
Sterile gingiva former included
The BioniQ Plus implant package includes a sterile gingiva former. There is no more repetitive manipulation of soft tissues, and tissue traumatisation to the implant surroundings during the prosthetic treatment is minimized.
Collar of the BioniQ Plus implant
Machined – minimizing the risk of microbial colonisation of the implant surface
Cylindrical – variable submersion depth without the risk of an excessive compression of the marginal bone
The optimum height of the machined collar is 1.7 mm, sufficient for easy distal hygiene and at the same time, it offers the scope for working with soft tissues in the areas with high esthetic demands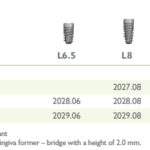 For more information, please contact your sales representative or find them in BioniQ Plus leaflet.