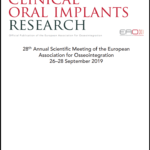 The last weekend of September set the stage for the European Association for Osseointegration (EAO) international congress in the Portuguese capital, Lisbon. The outstanding long-term results of the BioniQ implant system were presented at the congress once again, this year.
An abstract of the presented work which, among other things, evaluated the impact of BioniQ implant insertion depth during implantation was also published in a special issue of the most prestigious implantology journal, Clinical Oral Implants Research. The results have been published after 3 years of the implants in use, with the entire clinical follow-up period being 5 years.
After 3 years in use, the total mean bone resorption around the monitored implants is 0.36 ± 0.69 mm from implantation or 0.13 ± 0.65 mm from the loading. The study has also documented the significant influence of the relative position of the implant neck on the dynamics of bone resorption with regards to the surrounding tissue. Fixtures inserted below the marginal bone level, i.e. with an absence of initial direct connective tissue contact with the fixture neck, exhibit significantly higher bone resorption than fixtures placed at and above the bone level, i.e., those in direct connective tissue contact with the fixture neck since their introduction.
The abstract has been published here:
Implants with an osteoconductive surface and a moderately rough neck – 3 years of follow-up; Nesvadba R., Novák Z., Strnad J., Kamprle J., Strnad Z.: Clin Oral Implants Res. 2019;30(S19):303. doi:10.1111/clr.259_13509