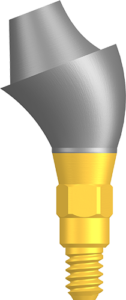 Your happiness is important for us. Therefore, we are constantly expanding the BioniQ implant system product range. This year's summary of new products can be found in the Product catalog supplement 2017. See below for information on some of the new products.
Temporary abutments for the yellow prosthetic platform QN are available indexed or non-indexed, in two gingival heights. A non-indexed temporary abutment, with an internal conical connection has been added to the indexed version of the blue prosthetic platform QR.
We also offer angled Screw-On abutments QN for easier treatment of disparallel implants. For the yellow prosthetic platform, 20° angled Screw-On abutments are available in three gingival heights, L3 to L5.

The customisable Cast-On LASAK BioniQ® abutments are, as well as the milled LASAK CadCam abutments, designed for treatment where the usual system abutments do not meet the requirements. They are now available non-indexed, with an internal conical connection.They are suitable, therefore, for multi-unit dental restoration structures. The non-indexed Cast-On abutments are available for both BioniQ® prosthetic platforms – QR and QN.
We have added the CEREC® components to the system, such as Ti base CEREC® QN, which is compatible with the scanbodies and Sirona blocks, size S. Thus, the BioniQ® S2.9 implants can now be fitted with the CEREC® system structures.
Using the BioniQ® prosthetic planning kit, choosing a suitable abutment is simple. The plastic abutments can be easily placed, without screwing, into the implant analog. The kit contains planning abutments to be used within both the QR and QN platform. There are four pieces of each abutment type in the kit.
Download the Product catalog supplement in electronic format.