The new Screw-On open tray impression coping has a new optimized shape for better dual use. The Screw-On open tray impression coping is made of titanium and can also be used as a base for anchoring a temporary restoration after removing the fastening pin.
The new impression coping version has a reduced external diameter of the body. It can be shortened, which makes anchoring smaller-sized temporary restorations easier and offers more flexibility when designing the restoration. The main retention wing provides the necessary stability of the coping in the impression material. The smaller retention elements, located lower down, are optimised for maximum retention in the polymer resin.
The impression coping can be shortened above the Screw-On bridge screw, or under the main retention wing. The fastening pin of the impression coping can be shortened where shown – as can be the pins of all the other impression components of the BioniQ implant system for the open tray method – or extended using the respective pin extension made of PEEK (Ref. No. 2718.05).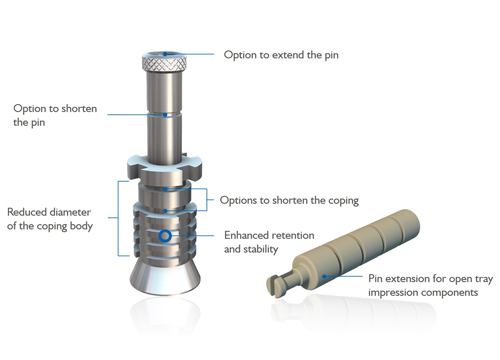 You can place your order for the new impression coping version under Ref. No. 2719.00.