We would like to inform you that the production of IMPLADENT implants will be discontinued on December 31st 2019.
Availability of all types of IMPLADENT implants will not be guaranteed from this date on and only the final sale of implants will take place. The complete range of prosthetic and laboratory components, together with the compatible IMPLADENT instruments, will be available for prosthetic series 2.9, 3.7, and 5.0.
The IMPLADENT system was launched onto the market in 1993, joining other world-renowned systems. Every technical detail of the system complies with the international consensus on material and design requirements. We appreciate you choosing our IMPLADENT system.
Please contact your representative to receive an individualized offer for transition to the more modern BioniQ implant system. The system provides a unique combination of advantages while maintaining simplicity and cost-effectiveness. More than 95% of our customers are satisfied with using the BioniQ system.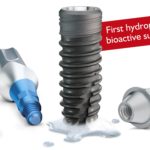 Advantages of BioniQ implant system:
The implant-abutment Q-Lock connection is a unique combination of a deep cone, a solidhexagon, and a reinforcing cylinder, ensuring maximum strength.
The hydrophilic BIO-surface promotes osseointegration.
The system includes cylindrical dental implants (straight implants) and conical dental implants(tapered implants).
The system comprises BioniQ implants inserted at the level of the bone and BioniQ Plusimplants allowing insertion at the level of soft tissues.
Surgical instruments for all types of BioniQ implants may be found in one surgical cassette.
The implant design and its implant-abutment connection, platform shift included, providesmaximum stability of the peri-implant tissue.
The wide selection of prosthetic components provides perfect aesthetics.
Thank you for your understanding. We look forward to continuing our successful cooperation.
Your LASAK team