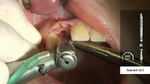 We are publishing a video showing the surgical procedure for the LASAK BioniQ® implant system on our corporate YouTube channel. The video presents a single tooth implantation. The surgical treatment is accompanied by pictures of the instruments used and the instructions for their use.
The video specifically shows the procedure for the implantation of the LASAK BioniQ® implant S3.5. The basics of the prosthetic treatment, including impression taking and the installation of the temporary and final superstructures form the second part of the video. This part is accompanied by pictures of the impression components and the instruments used and indicates the recommended tightening torques.
Implantation: prof. Antonin Simunek, M.D., PhD, prosthetic treatment: Dita Dufkova, M.D., Centre of Dental Implantology in Hradec Kralove, CZ.
Click here to see the video.