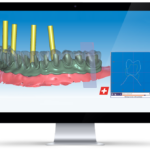 In accordance with our "Simplicity and Effectiveness" philosophy, we continue to develop and expand our services. You can plan your treatment with LASAK components using your planning software and you can also order LASAK CadCam milled frameworks using our online application and check your order's status anytime, even at weekends and evenings.
So, no more filling out paper order forms. You can digitize your work, simply and effectively at www.lasak.com.
Supported planning software
BioniQ implant libraries for the planning of surgical treatment are available for the following planning software:
Implant Studio™ (3Shape)
coDiagnostiX™ (Dental Wings)
exocad
Planmeca Romexis® (ver. 4.4.0.R and newer)
Vatech
NewTom
MyRay
Please, update your planning software to ensure easy and precise work with the LASAK system or import the original LASAK libraries into your planning software.
CAD/CAM frameworks online
The LASAK CadCam section contains all the necessary information about LASAK CadCam technology – a unique manufacturing system used to produce precise frameworks, allowing direct fixation in dental implants without the use of abutments or other connecting elements. You can:
Order the milled frameworks using the online order form
Increase the precision of your implant-supported frameworks using CAD/CAM technology

Check the status of your LASAK CadCam order
Anytime, even evenings or weekends (24/7)
No need to contact customer service
Includes electronic confirmation of your order status which you can share with others
Simply click the order tracking link in your order confirmation e-mail. The order tracking page is also available at www.lasak.com. You can find it in the LASAK CadCam section or by following the quick links on our homepage.
To check your LASAK CadCam order status, simply enter your order number in the appropriate box.