LASAK launches a highly effective Collagene AT® barrier membrane for guided tissue regeneration. It is used primarily together with a bone substitute material, such as OssaBase-HA and / or PORESORB-TCP. This collagen membrane is naturally resorbed, typically within 180 days, eliminating a second operation for its removal.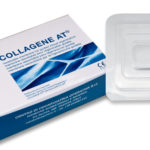 The Collagene AT® membrane is made of pure lyophilized hypoallergenic collagen of equine extraction.
Collagene AT® is a membrane with nanometric micro-irregularities at the surface that creates a barrier effect. Amongst the collagen layers with reticular links there are micro spaces of 10-20 microns to prevent cell migration.
This barrier effect prevents epithelial and soft connective tissue cells from interfering with bone growth or paradontal tissue growth. The maintenance of a space beneath the membrane allows osteoblast migration and new bone growth or new paradontal growth.
The membranes are fully resorbed within 180 days, therefore, eliminating the need for second surgery.
For more information you can download our leaflet or send an e-mail to: export@lasak.cz.