If you haven't found the new print issue of the LASAK BioniQ 2019 catalogue in your post box, don't worry. Just tell us and we will immediately send one to you, free of charge. Have you been waiting too long for the postman? All you need to do is to download the electronic version.
In addition to the standard products and those with which you are already familiar, you will find a range of new products in our catalogue, including:
BioniQ Plus – implants with a machined collar;
LASAK CadCam titanium base with a 2mm gingival height;
Scan bodies suitable for intra-oral application;
LASAK CadCam LOCATOR bars that we can produce for all major systems;
Direct Driver insertion wrench to facilitate final correction of the implant position;
Instruments for pilot navigation surgery;
Collagene AT® resorbable membranes.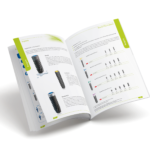 You can also discover the new products in our range, in person, by paying a visit to IMPLANTOLOGY – the 23rd year of this professional conference, held on Thursday, 11 April 2019, at the Clarion Congress Hotel, Prague, Czech Republic.
We are also exhibiting at the IDS, in Cologne, from 12 to 16 March 2019. We will be happy to welcome you to our Booth G-050, located in Hall 3.2.